Farm Playmat
We bought my oldest a big farm set for Christmas which came with a plastic playmat. I had to come up with something better because there is no way that flimsy plastic would hold up to my little farmer! I made patchwork "fields" out out four different fabrics...the different textures are so great for little hands to explore and play with. I had planned on trimming it with bias tape, but ended up scrapping that to finish it quickly for a very impatient farmer.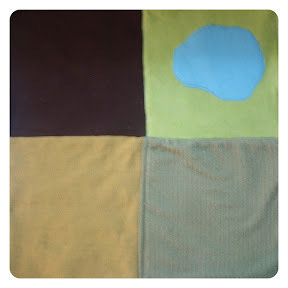 I love searching my fabric stash for different patterns and textures for the fields...I used a dish cloth for this one!
Kingston insisted there had to be mud for the pigs!
A pond for the ducks to swim in and the animals to drink from.
The Hay field
This is my favourite gift for boys. Include a tractor and some animals and you have a great gift for any little boy!
Sorry for my absence! I have been busy visiting with family, enjoying the summer weather, and tackling projects around the house.
I have lots of projects in the works so keep stopping by! Hope you are enjoying your summer : )
{ Amy }