Kids Clothes Week!
It's Kids Clothes Week Over on
Elsie Marley
. I am so excited for this challenge!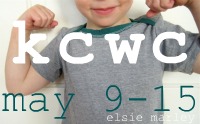 Some things I am hoping to make this week:
Shorts & Pants
Diaper Covers
Overalls
Hoodie
Last week I was in a sleep deprived fog...so not much creating happened. Hoping for healthy kids this week so Mommy has the energy to sew!!
{ Amy }