First Birthday
We celebrated my baby's First Birthday a couple weeks ago. He and his Daddy's birthdays are only 5 days apart so we had a little family party for them both. I was sleep deprived and still drowning in laundry from our trip...so I kept it very simple!
I made a ribbon backdrop for the food table. So quick to make and really brings together the colour scheme. I did it the morning of the party so I just hot glued the ribbons around a dowel. I made sure I didn't actually glue any of the ribbon to the dowel so I could reuse the ribbon after ; )
I also made some pinwheel cupcake toppers out of scrapbook paper the night before to decorate my (store-bought) cupcakes. Damien was not a fan of the cupcakes...maybe he could tell they weren't homemade!
I can't believe it has been a year since this sweet boy entered the world!
Photo by
Nicole Lowe Photography
Damien you have brought so much joy into our lives. I am so blessed to have the privilege of raising you. Love you little man!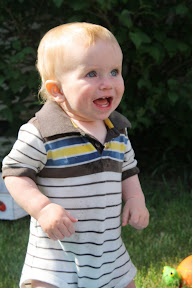 { Amy }