Adventures in Jersey
I recently bought a used serger, circa late 1980's. She is a little beauty I call Janice (as in Janice Dickinson...was at her peak in the eighties but still kickin' it! Ha ha!) We are still getting to know each other, but getting along quite nicely so far. I love how fast it sews and how nicely it finishes seams...projets are getting finished much quicker!
I found some super soft & stretchy yellow Jersey on clearance and have been experimenting. I drafted a couple patterns and though they need a little tweaking, I love the results! The drape of this Jersey is beautiful.
I made this vest for my Sister-in-law's Birthday. I love how it drapes and the lace inset in the back. I think I will be making one for myself now! If I do make another, I will put together a tutorial.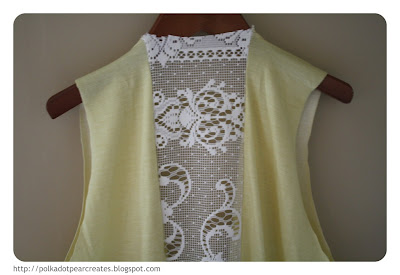 My Sis-in-law happens to be a very talented artist! You can check out her art on Etsy at
Sonneblomstudio
and her inspirational blog
HERE
.
A little update on me...I am finally getting a LOT more sleep! Hurray! That means I will be posting a lot more now...stay tuned!
{Amy}