Bedding Makeover
I recently made some new pillows for our bedroom. It all started with this vintage yellow duvet I found at the thrift store. I am loving all things yellow lately!
To make these pillow covers, I layered two strips of ruffles and then sewed a strip of bias tape down the middle. I made this bias tape using my bias tape maker...making it single fold (so just putting it through and ironing once). If you want more instructions let me know and I can put together a little tutorial for you!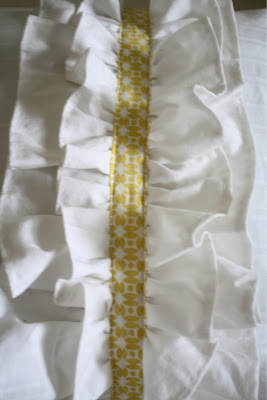 I also made some pillowcases for our body pillows out of a vintage sheet. I used the top of the sheet to include the pretty trim. I love how bright and sunny the bed looks now!
I have a couple more projects to finish and the room is done. I am working on some art to hang on one wall and need to find the perfect fabric to hang as a headboard. Isn't this a fantastic idea?!? An easy, inexpensive way to make a headboard... and a great way to showcase your favourite fabric!
{ Amy }