Lace Skirt {Tutorial}
I saw
THIS
skirt and had to make one!
I went hunting for some lace curtains at the thrift store. I can't stand new lace...you know the bright bluish white stuff! I wanted a vintage looking, off-white lace. I found this curtain and knew it would be perfect!
This is a very basic elastic waist skirt. If you want to make your own here is what you'll need:
Lace (I used a thrifted curtain)
Lining fabric (I used a pillowcase)
Elastic
First step is to measure your hips and the length you want your skirt. Add an inch or so for seam allowance and cut out your pieces. You will be cutting front & back with both the lace and the lining. I cut my lining pieces shorter than my lace since wanted the lace to peek out at the bottom.
Next you will hem the lining pieces.
Layer your fabric right sides together as follows: lining, lace, lace, lining. Pin together.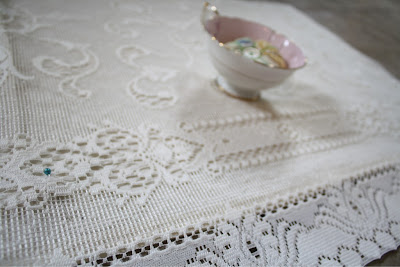 Sew the side seams. When you press your seams open be really careful with the lace...I don't want it melting on you! Put a damp towel over the seams and carefully press.
Now you are going to fold over the top of the skirt and stitch in place to create the casing for the elastic. Remember to leave an opening so you can add your elastic.
Thread your elastic through the casing, stitch together, and sew the casing closed.
Now try on your new skirt!!
If you make one, take a pic and add it to my
Flickr Group
. I would love to see what you made!
{ Amy }
Linked Up