Easter Ties For My L'il Guys
Here are the Easter ties I made for my boys. I always said I would never dress my kids in matching clothes (after growing up with matching taffeta dresses for me & my sisters!)...but it is TOO cute and I gave in! I love seeing them in matching outfits and Kingston loves when his little brother is dressed like him too. Oh and did you notice the cut above Kingston's eye?? He had a nasty fall this week but luckily no stitches, just tape!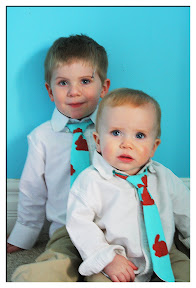 I have a thing for aqua and red...I just love that vibrant combo! I painted the red bunnies on using a stencil and acrylic paint. I do like using fabric paint, but I didn't have red and acrylic is permanent on fabric too.
For the tie I used
This tutorial
and pattern with a couple alterations. I used elastic on the neck band instead of Velcro since I ran out if fabric. Next time I will go with the Velcro...these are hard to squeeze over my boys' massive heads!
{ Amy }