Mini Paperbag Skirt
It has been a rough couple weeks around here...teething you win again!! Poor Damien is cutting
four
teeth, including 2 "I" teeth! That means no sleep for me and no energy for anything. Thanks to my hubby this weekend I was able to get a little rest and some sewing done!
I made this skirt and headbands for a sweet little girl who turned one this weekend. I love my boys...but man, sewing for girls is SO much more fun!!
The skirt is a mini version of the
Easy Paperbag Waist Skirt
. I added a little flower for extra cuteness!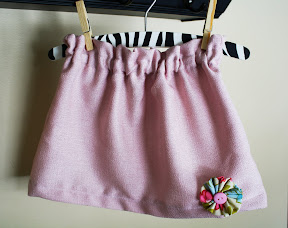 I can't wait for these teeth to come in so I can get some sleep and get back to sewing!!
Linking up here
{ Amy }